Lunch over Easter
Easter Saturday, Sunday & Monday 11am-5pm
This Easter weekend relax, enjoy a glass of wine from our cellar door, lunch or coffee & cannoli, in our alfresco garden setting or with a vineyard view.
Easter menu: (From $8-$30)
Arancini, Antipasto platters & Cheese platters
Barista made Coffee & Nonna Josie's Cannoli & Biscotti
Easter eggs for the little ones
Call 0418574455 for bookings
Calendar of events 2019
April 19-22 EASTER – cellar door open; 20-22 Lunch at Politini Wines over Easter
May  4 & 18 Cannoli making
June  8 & 9 Queen's Birthday Wine & Food Festival at Politini Wines
July  6, 13 & 27 Salami & Salsicce Making
August  3 Salami & Salsicce making; 24 Cannoli making
September  7 Cannoli making
November  16 & 17 La Dolce Vita Wine & Food Festival at Politini Wines
Lou Politini
Ciao!
HARVEST It's harvest time in the King Valley! It's going well and we're seeing beautiful ripe fruit coming off the vine which will go into producing some fabulous wine for this vintage! Want to see harvest in full swing? See our
Instagram or Facebook page for some magnificent Shiraz harvest footage taken by our drone.
CANNOLI MAKING Our Sicilian Cooking Experiences will begin shortly. Love Cannoli? This is our first class for this year and it kicks off on April 6. Learn how to make and transform dough into crisp tubes, fill with Nonna's own custard or sweetened ricotta to create this traditional Sicilian dessert, then finish off with the all-important taste test! Class sizes are limited so bookings are essential for April 6, May 4 & 18. Cost: $85. Find out more about our Cannoli making class here or email us to enquire or to book your spot now.
EASTER FOOD & WINE So, Easter is around the corner! If you're up in the High Country for the Easter break drop in to see us in the King Valley, we will have Arancini, Antipasto & Cheese platters available – perfect with a glass of wine – and ever popular Cannoli and coffee – Easter Sat, Sun & Mon 11am – 5pm.
WINE & FOOD FESTIVAL – JUNE Our next major Wine and Food event at Politini Wines is on Queen's Birthday weekend, June 8 & 9. Wine, Food, Music and Friends in the spectacular King Valley – a fantastic family friendly weekend.
All the best,
The Politini Family
New in Cellar Door
Politini Wines NV Prosecco Classico
New Year, New Label!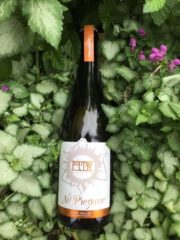 Appearance: Pale, golden straw. Full textured, persistent bubbles.
Aroma: Fresh citrus with hints of honey and white flowers.
Palate: Fresh and clean with a creamy fizz. Ripe citrus, lemon, green apple and touches of grapefruit. It is a Brut style that tickles the palate and finishes dry, light and clean.
Available now in Cellar Door & ONLINE

SALAMI & SALSICCE CLASSES
The ever-popular Salami and Salsicce class is a fantastic day of hands-on learning with Salvatore the traditional Southern Italian way. Did you know that some of our past participants won first prize at last year's Salami Festa in Melbourne? How fabulous! Find out more about our Salami and Salsicce class here. Dates: July 6, 13, 27 & Aug 3, Cost: $125, limited places available, bookings are essential via email here
.
Lou Politini
 Ciao! As we celebrate the festive season, with our loved ones at our table, we raise a glass of Prosecco and farewell 2018 - cheers to family, friends and good
Lou Politini
November 17 + 18, 11am-5pm A sensational weekend of wine, food, music and friends! Prosecco bar and cellar door tastings including our Sicilian varieties Hearty southern Italian-inspired feast, including Nonna's Sicilian Arancini and Salsicce, Mediterranean